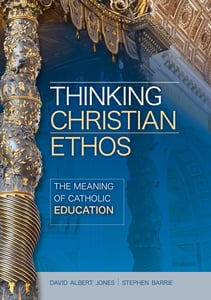 £

9.95
By David Albert Jones and Stephen Barrie
This book is about the meaning of Catholic education. It is not a book only for practising Roman Catholics but is a resource for anyone who wishes to explore how education is to be understood from a Christian perspective. It sets out a vision of education that is, or that ought to be, embodied in a Church School (especially but not only in a Catholic school). Its primary concern is religious and moral education, not only as subjects in themselves, but as the foundation of the entire educational process. The project, of which this book is the centre-piece, grew out of the experience of the authors, and in particular from their discussions with students, teachers and school leaders.
David Albert Jones is the Director of the Anscombe Bioethics Centre, Oxford, Research Fellow at Blackfriars Hall, Oxford, and Professor in the School of Education, Theology and Leadership at St Mary's University, Twickenham.

Stephen Barrie is Education Officer at the Anscombe Bioethics Centre and is studying for a PhD in Philosophy at King's College, London.
_____________________
Endorsements
"This text is to be warmly welcomed at a time when there is significant debate about the place of Church schools and religious education in society. It can help clarify prejudices and misunderstandings about Catholic education. It will be a rich resource for parents, teachers and governors as well as all others interested in the 'heart-beat' of Catholic schools. Complex thought is summarised in an accessible way which can assist leaders to reflect on how to deepen Catholic identity by better understanding human flourishing, the virtues, revelation and God's grace perfecting nature. It invites prayerful reflection."
Cardinal Vincent Nichols, Archbishop of Westminster
"This is a hugely welcome work which will be of benefit to everyone who plays a role in the Catholic mission of education… governors, heads, teachers and parents."
Philip Robinson, Religious Education Adviser at the Catholic Education Service
Thinking Christian Ethos is "well written, comprehensive and brings together…a wealth of insight in a manner that is both unusual and original."
Prof James Arthur, Head of the School of Education, University of Birmingham
"A marvellously rich volume"
Dr Liam Francis Gearon, Harris Manchester College, University of Oxford
"Many of the chapters serve as excellent resources for my A level pupils (Virtue Ethics) and I am most grateful for the excellent way it has been laid out as well."
Patrick Fleischer Head of RE at the Cardinal Vaughn School
"An informative, challenging and accessible text which elegantly elucidates the purpose and meaning of Catholic education… this book won't remain on the shelf."
Dr Maureen Glackin, Head of the School of Education, Theology & Leadership, St Mary's University, Twickenham
Contents:
Section 1. The Nature of Education: What is needed for human persons to flourish?
1 Human Persons
2 The Integral Formation of Persons
3 Education & Ethos
Section 2. Christian Education: What difference does Jesus make?
4 Who is Jesus
5 The Virtues Transformed
6 Christianity & the Task of Education
Section 3 .The Church & Education: What should a Catholic School look like?
7 A Light to the World
8 The Ethos of a Catholic School
9 The Mission of a Catholic School
£9.95
158pages
ISBN: 978 1 78469 031 1